24 Apr

Biophilic Design: Everything You Need to Know

Biophilia is defined as a love of nature and natural processes. It focuses on how the human race connects and understands the natural world through thousands of years of close association.

The term was coined by the American biologist Edward O Wilson during the 1980s when he witnessed the increasing rates of urbanisation hindering our connection to the natural world. With high levels of migration to more urban areas and ever-increasing industrial developments – the idea of biophilia is more important to our health and wellbeing than ever before.

Biophilic design takes these ideas as core principles to create a human-centred approach to design, which, when applied correctly, can improve the spaces that we work and live in, while benefitting our health and wellbeing.
Why is Biophilic Design Relevant?
According to the World Health Organisation, stress-related illness, such as mental health disorders and cardiovascular disease, are two of the most significant contributors to ill-health. A diminishing connection to the natural world, increased pressure on urban spaces and an expanding technological presence means that we are finding less time and space to recuperate our mental and physical wellbeing.
Incorporating natural elements into a human-made environment has demonstrated reduced stress, blood pressure and heart rate, while simultaneously increasing productivity, creativity and wellbeing.
Businesses at the very top of the corporate world such as Apple, Amazon and Google increasingly realise the benefits of biophilic design, which has shown to also improve concentration, engagement and staff retainment.
Benefits of Biophilic Design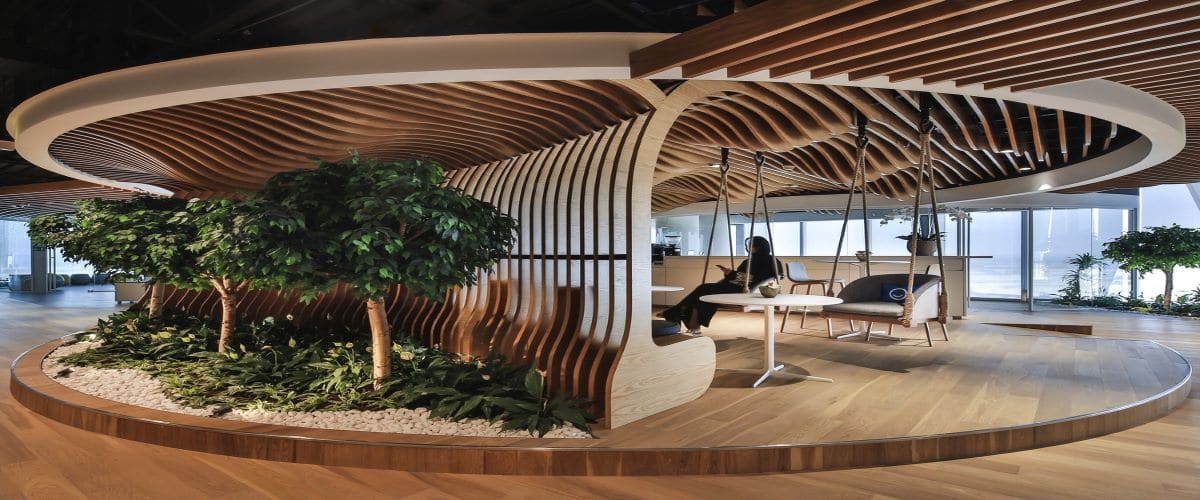 There has been a good deal of research since the term 'biophilic' was coined, as to the benefits of built environments improving their connection to nature.
All statistics below were found at plantplan.co.uk:
Office – Biophilic office designs can increase productivity by 8%, wellbeing by 13%, and days off work decrease and employee engagement rises.
Hospitality – Guests are willing to pay up to 23% more for a room with a view of biophilic elements.
Education – Learning rates increase by 20-25%, test results improve, concentration and attendance all increase.
Healthcare – Post-operative recovery times fell by 8.5%, and pain medication use decreased by 22%.
Retail – Vegetation and landscaping features have been found to increase retail rental rates, where customers are willing to pay up to 12% more for products and services.
Optrys & AstraZeneca
Back in February, we attended a BCO event which gave members the chance to tour the cutting-edge Cambridge offices of research global pharmaceutical company, AstraZeneca.
The offices focus heavily on biophilic and residential design to ensure employees feel engaged, relaxed and productive, which is undoubtedly high on the agenda of any modern business.
One of the things that Mark was particularly impressed by was the bicycle seats that allow users to charge their phones while sitting at a meeting table.
How Optrys Delivers Biophilic Design
We work very closely with all of our clients to ensure we are able to manage all facets of a project, to ensure complete peace of mind. This includes everything from conception and design, to specification and delivery.
Our experience means that we can ensure everything is taken care of, so we can highlight any issues from the outset to ensure a project runs on time and budget.
This gives us a better understanding of the social and spatial opportunities that exist within your property so that we can deliver on three core principles: people, planet, and productivity.
Our biophilic design approach looks to investigate and improve:
The organisation of spaces to ensure a more human focus
Thermal quality
Air quality and ventilation
Acoustic comfort
A healthy mixture of natural and artificial lighting
The procurement of natural textures, colours and patterns
The inclusion of recuperative and breakout spaces
Aesthetically pleasing, brand-led design
Psychological and physiological impacts
If you'd like to learn more about biophilic design, or you're interested in any of our other services, don't hesitate to contact us for more information.