15 Jul

10 Lighting Solutions to Consider in Your Office

Lighting plays a crucial part in the design of an office space and, just the like the layout itself, it can make a massive difference on how the space is used and who uses it.

Lighting can impact everything from how people make decisions – brighter light, for example, can cause people to respond to situations more emotionally – to how well they sleep at night; dim lights have been found to cause a restless night's sleep.

Lighting design is often overlooked when considering office plans, but it's certainly something worth considering when you think that it can have a positive impact on the health and wellbeing of your staff and your overall branding image.

Below we've highlighted ten office lighting ideas that can affect the wellbeing and productivity of your staff, and how you utilise it to create the best impression of your brand.
#1: Natural Light
When talking about effective lighting, daylight is by far and away the most effective form. Windows are one of the best features of any office building because natural light increases worker satisfaction and productivity.
Natural light isn't always a viable option; it really depends on the space you have to work with. For example, during our work with the Papworth Trust, one of our goals was to open out the space to make the most of the natural light already available, to create something that felt more inviting and collaborative.
#2: Recessed Lighting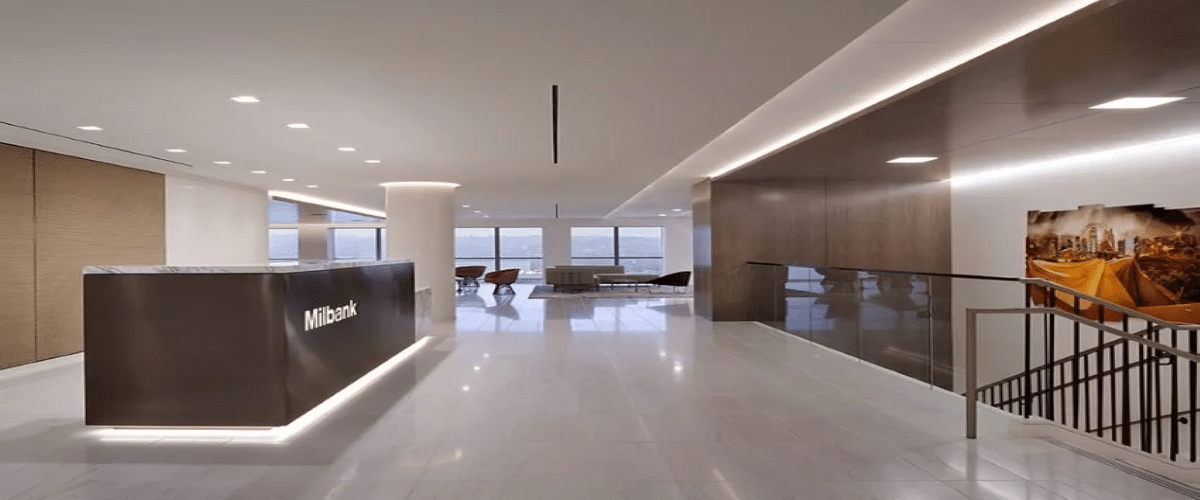 If you want to provide plenty of even, overhead lighting throughout the office without using large fixtures, recessed lighting is ideal. Recessed lighting utilises bulbs that are installed into the ceiling, this way they don't hang down or take up any overhead space.
The example above from Millbank shows how recessed lighting can be used to create a simple, clean and contemporary look when done correctly.
#3: Desk Lamps
If you're looking for lighting solutions for individual workspaces, then the humble desk lamp can be absolutely ideal. This is because they can offer targeted light to suit individual preferences, and they can be purchased in a style that matches the aesthetic feel of the rest of the office and the overall company branding.
To prevent eye strain, desk lamps are usually best served as additional, rather than the sole source of lighting.
#4: Track Lighting
Track lighting is an overhead lighting fixture that offers a little more style than the more traditional recessed lighting we covered earlier. The fixture includes a bar with several light bulbs placed across its length. This solution is absolutely perfect if you're looking to create a sleek, minimalist, industrial style office space.
#5: Wall Sconces
Wall sconces are fixtures that are attached directly to walls and offer direct or additional lighting. This option is particularly suited to the smaller office space, as the softer light is often lost in a bigger space.
These lighting fixtures are ideal if you're looking to create a more traditional or vintage-inspired aesthetic. Although more contemporary designs that extend out from the wall to provide light for workstations are available.
#6: Indirect Light
If your business is looking to create a distinctive aesthetic or provide supplemental light along hallways or in collaborative areas, then indirect light is perfect. The example above from Squire Sanders shows how indirect light can create an added glow without creating long, harsh shadows around the office. They are also ideal if you're looking to highlight a branded focal point, such as wall art or company logo.
#7: Under-Cabinet Lighting
While under-cabinet lighting is becoming more widespread in home kitchens, they are still more commonly seen in office kitchens or under shelving in the office. This kind of lighting can quite simply supplement existing lighting or offer targeted illumination in areas that require it.
#8: Task Lighting
Similar to under-cabinet lighting, task lighting offers a targeted light source in an area where work is undertaken, which is usually above a desk. The example from Wearefound showcases task lighting mounted under a shelving unit to provide direct light for those working beneath.
#9: Floor Lamps
Floor lamps offer targeted light around a work or sitting space, while also adding a unique décor element that can match the overall office aesthetic. These light sources are usually better suited for the smaller office space or as an additional source of light in reception or common areas. Floor lamps can come in a range of designs, colours and finishes, so you can be sure to find the perfect solution.
#10: Pendant Lights
Pendant lights, sometimes known as modern chandeliers, hang down from the ceiling and offer direct light and a point of visual interest. These fixtures are best suited over desks or conference tables since they tend to hang low and may not be suitable for other areas of the office. The example above from Lumens is a very modern instance; however, they can be found in a range of styles and designs.
Takeaways
The correct lighting is a necessity for any commercial office space. By carefully selecting the optimal lighting, you can motivate your employees, increase productivity and send out a message to potential partners and clients about the kind of business that uses the office.
If you require any help selecting and installing your ideal lighting fixtures, then why not contact us today?