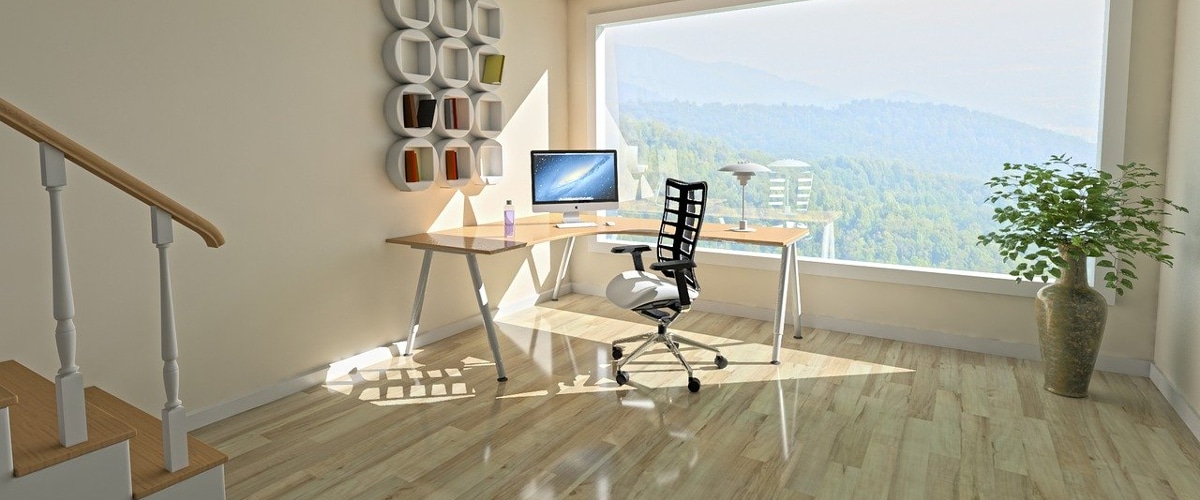 14 Jan

What is the Ideal Flooring for Your Office?

When it comes time to choose the best kind of flooring for the modern office space, there are several popular choices available.
In this article, we'll cover the different options available to you and what you should consider when selecting your flooring of choice.
What You Need to Consider
Not every flooring finish will work within every location, so it's vital that you consider the following:
Traffic and Lifespan
Firstly, it's important to consider the lifespan of your chosen flooring, by taking into account the level of footfall it will need to withstand. If the office often experiences high levels of traffic, then something robust will need to be selected to withstand the rigours of day-to-day activity.
You will also need to refer to the flooring classification system, which is used to determine what type of floor can be used within a room.
This system is used for carpet, vinyl, laminate, parquet and ceramic flooring, and is split into different classes, for example:
• Class 32 flooring is suitable for moderate commercial use
• Class 33 flooring is suitable for heavy commercial use
The standard dictates that the flooring you choose will need to last at least ten years without issues in the selected room.
Repairs & Maintenance
It's crucial to select a flooring type that is easy to access when it requires repairs and maintenance. It's also important to consider whether these repairs will create disturbance in the everyday working patterns of your office.
For example, is there a flooring option that is easy and quick to clean, and can be done so after all of the workers have gone home?
In order to keep your flooring in tip-top condition, continual maintenance may be necessary, so when it comes to picking your desired flooring, it's also important to ask yourself how much installation and maintenance costs will set you back, since some will be far more expensive than others.
Flooring Options
Carpet
Carpets are perfect for businesses due to their noise insulation and warming properties. Carpet tiles are a particularly good choice since they are easy to install and cost-effective to replace in the event of damage and can provide a surface resistant to high footfall.
Vinyl
Vinyl flooring is perhaps the most popular form of commercial flooring on the market due to its longevity and wear-resistant properties.
Vinyl is ideal for office spaces with high foot traffic due to its hard-wearing resistance to damage, easy cleanability and low levels of maintenance.
Rubber
Rubber flooring is another hard-wearing choice and would suit environments which require resistance to heat and water – such as server rooms.
It's also slip-resistant, sound-absorbing and easy to walk on.
Hardwood
Hardwood floors are often popular for high-end offices who are looking to pull off a traditional, time-honoured look to reflect their branding.
Hardwood is reliable and robust, although it can be ruined by excess moisture levels and can become very slippery when polished. The main drawback though is the cost; hardwood flooring is likely to be some of the most expensive on the market.
Laminate
Laminate provides a cheaper alternative to hardwood or ceramic. It's far more cost-effective than hardwood, easy to install and maintain and is resistant to dents, scratches and often water damage.
The best thing about laminate though is the fact that you can buy it in almost any design or colour, at a range of cost points to ensure you can still create a time-honoured look within the office.
Ceramic Tiles
Ceramic tiles are often the flooring of choice in offices where water damage could become an issue. Tiles are easy to clean and maintain, and they will last for many years, however, they're very problematic to replace if they were to crack, and they won't offer the same noise insulation properties as some of the other choices.
Tiles are best suited to offices which see plenty of sunlight and warmth since they don't possess the same warming qualities as rubber, vinyl or carpet, which will keep the office cool.
Aesthetic vs Practical
In addition to the practical solutions we've already mentioned, it's also just as important to consider the style and aesthetic qualities you want to achieve with the flooring you choose for each room.
For example, you may wish to install a more sound-resistant flooring in break out areas, a robust flooring in regions experiencing high foot traffic or something a little more high-end in board or meeting rooms.
Whatever your choice, it will have an impact on how the room is perceived, which is why it's so important to marry aesthetic qualities with practical ones.
If you have any questions about anything we've covered in this blog, or you're looking to begin your office refurbishment project, then why not contact us today?