11 Feb

Creative Office Inspiration from Around the World

Creating the perfect office space that ticks the style and practical boxes can be a tricky proposition. You want the area to be a professional, productive environment, but at the same time, you don't want it to feel dull and uninspiring.

Not only this, but first impressions are an essential part of the human experience, and this translates to the office space too. You only get one opportunity to impart positivity and good vibes to prospective clients, employees and visitors.

With that in mind, in this blog, we've compiled some of the most creative office spaces to give you some ideas on how to accessorise your office.
Pixar, California
Pixar has adopted a cubicle system, which each employee can customise to their liking. Since each member of their team has such an important role to play, this creative and interactive workspace is designed to promote originality and imagination.
Each hallway and communal space is decorated with life-size characters from the films, along with space hoppers, scooter and all manner of toys and gadgets to blow off steam.
TBWA, New York
Gaetano Pesce, Italian artist, architect and designer was the brains behind the New York office for the ad agency TBWA. This design features a large open floorplan, complete with a basketball court, television screens, and even real growing trees in the office.
The company also discourages permanent desk spaces, which means the team are free to move to a different desk each day to encourage spontaneous encounters with co-workers that they might otherwise be unable to interact with.
BICOM Communications, Canada
Canadian designer Jean de Lessard was hired to evolve the offices of Canadian PR company BICOM Communications, into an area which inspired employees and pushed innovation. The open-plan space is filled with all sorts of curious features and stylish flourishes.
Pods, which look like houses, are included to define working areas, each featuring their own unique design, including wooden panelling and fake grass.
Google, Zurich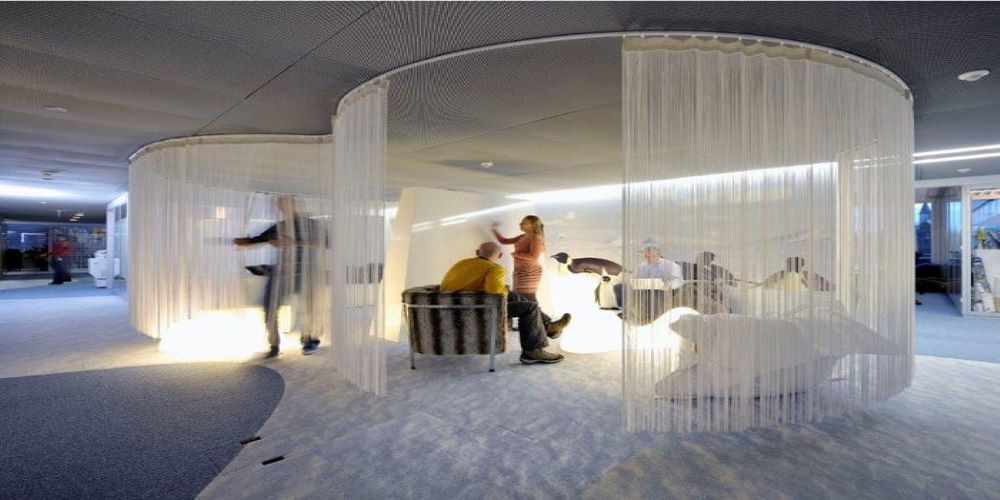 We couldn't create a list of inspirational office spaces without featuring a Google office, and although there are many to choose from, we've chosen their Zurich campus.
As well as working spaces, there are rooms to play sports, dance, get a massage, bathe, watch a film and themed cable cars, which are used as meeting spaces.
Shopify, Ottawa
Before ecommerce software company Shopify moved into their Canadian headquarters in 2014, they collaborated with an architectural firm to produce their incredible office space.
Each of the six floors is decorated with a different theme, including a library, a sauna, and decorations such as phone booths and old-style cash registers.
The company keeps these kinds of mementoes to remind their employees how far commerce has come and where it might be going in the future.
Kinetic, Alabama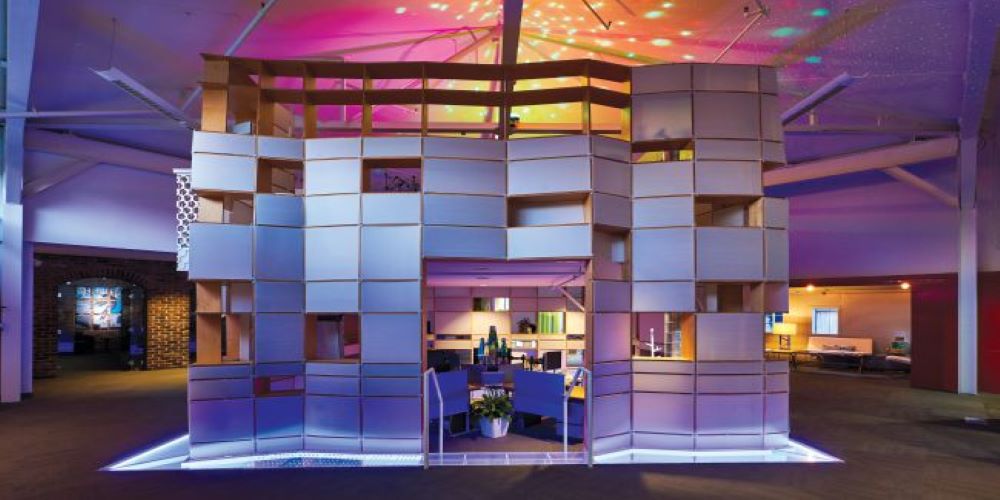 Web design company Kinetic has been striving to create innovative websites since 1995, which is how they themed their office.
The space is designed for flexibility and productivity, with collaborative break-out areas and private offices, along with retro games machines and steam rooms, which help the office find the perfect balance between work and play.
LEGO, Denmark
As you'd expect from a company like LEGO, their Danish office is playful, bright and creative – from the open-plan working spaces to the huge slide in the centre of the office.
The company knew that in order to encourage creative development, their office had to follow suit, which allowed the designer free rein. The purpose of LEGO is to let the imagination run free, which precisely how LEGO encourages its employees to behave at work.
Red Bull, Soho
The Red Bull offices in Soho, were originally converted from five old pubs – except none of the buildings were connected to each other, and none had floors of the same heights, which has given the Red Bull headquarters huge character.
These offices accommodate roughly 100 employees, and the company encourages collaboration with spaces that are more like modern lounge spaces, complete with original features from the old buildings.
If you have any questions about anything we've covered in today's blog, or you're interested in discussing any of our services, get in touch with us today.